Wireless Boat Hoist Motor + Solar Charging Kit - DC 20w-24v:
SAFER, FASTER, STRONGER: Introducing the first Wireless Boat Hoist Motor + Solar Charging Kit - DC 20w-24v by Lake Lifter. This NEW all-in-one kit offers everything needed to quickly convert your Flat Plate boat hoist to SAFE, RELIABLE, DC POWER.
The Wireless Flat Plate Motor System features a powerful DC 24v 1.5hp Marine Grade Motor with a heavy duty control switch. Wiring cables, connectors & hardware are included. Our easy waterproof connect system makes wiring and installation quick and easy. (Fits and uses existing gear plate, belt + pulley hardware)
DC 24v 1.5hp MOTOR: The Lake Lifter Marine Grade DC Motor is 1.5hp and handles all single motor boat lifts with gear plates rated up to 8500 lbs. The Lake Lifter motor provides speed and convenience. The Lake Lifter Marine Grade Motor has faster lifting times compared to traditional AC powered. The sealed marine grade construction ensures trouble free operation year after year. A universal motor mount fits all flat-plate style open gear hoists, while the standard 5/8" shaft size fits all standard single and double pulley belt sizes.
WIRELESS CONTROL BOX: The heavy duty marine grade wireless control box is the heart of the system and offers numerous motor control and connectivity options. Easy connection ports make configuration and customizing a breeze.
WIRELESS KEY FOB CONTROL The boat lift motor can be conveniently controlled via wireless key fobs up to 200 feet. The 4 channel key fobs operates both UP/DN functions of the boat lift motor with an added lock button to prevent the system from being used. The wireless key fobs feature a sliding cover to prevent accidental operation. The key fobs are water-resistant and replacement units can be purchased and re-synced to the wireless control box.
WALL SWITCH CONTROL: As an added bonus for traditional operation, the kit includes a traditional styled wall switch for dock-side boat lift operation. Mounts to any wall or vertical post and allows UP/DN control of the boat lift. The wall switch connects to the wireless control box and is NOT required and can be left out of the system or added later if desired.
LIMIT SWITCH CONTROL: The water-proof limit switch is a convenient way to protect your boat and boat lift from accidental over height lifting. The limit switch "when tripped" will break the connectivity of the motor operating in the UP direction. The user will then ONLY be able to use the lift in the DN direction until the limit switch connection is restored. The universal design allows the limit switch to be mounted in just about any location or position that will make contact at the desired set height limit. Typical placement is making contact with the boat carriage at maximum height, or the linear spooling cable wind at maximum height. The limit switch function is optional. An included "cheater" allows users to bypass limit switch operation.
BATTERY POWERED: The Flat Plate Motor Kit operates on safe DC-24v power. Two 12v deep cycle batteries are combined in series to create 24v. – Batteries Not Included. A breaker fuse protects the system from any failure or overload. The breaker fuse is easily reset and does not require changing a fuse. The breaker fuse is installed in the lockable battery box and offers a convenient way to disconnect power preventing the boat lift from being operated.
BATTERY BOX: (Not Included - Recommended As Add-On): Our durable Fiberglass Battery Box houses the two batteries, motor control box, breaker fuse, and wiring. The fiberglass battery box has optional lock to keep everything safe and secure.
SAFETY: The Lake Lifter Manual DC Motor Kit offers boat lift operators a safer & faster alternative to traditional AC powered boat lift motors. The Lake Lifter Manual DC Motor Kit operates from SAFE low voltage DC 24v power eliminating electrical shock hazards around water.
BOAT HOIST SOLAR CHARGING KIT: To prevent the batteries from being depleted you will need one of our Boat Lift Solar Charging Kits to recharge the batteries between uses. The size and style of the charging kits will vary depending on the boat lift size, boat weight, and how frequently the boat lift is used. Heavier boats and more frequent boat lift usage require larger charging kits to replace the power used.
Wireless Boat Hoist Motor System Features & Benefits
2 Year Warranty Against Manufacturer Defects
8,500+ lb Capacity
Safer & Faster than AC
Quick Installation
Wireless Key Fob
Limit Switch
Manual Wall Switch
DC 24v 1.5hp Marine Motor
Wiring, Cables, Connectors
20w-24v Boat Hoist Solar Charging Kit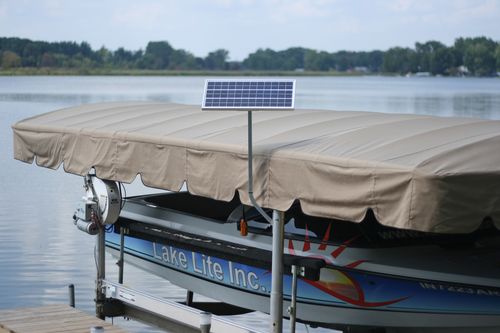 Keep your boat lift battery in top condition and ready to use at any time with Lake Lifter's 20w-24v Boat Lift Solar Charging Kit. Our more advanced charging kit, the 20w-24v Boat Lift Solar Charging Kit is the perfect charge for 24v DC boat lift systems using two 12v batteries. The added power of Lake Lifter's Boat Lift Charging Kit ensures better performance even on cloudy days allowing for higher useage. Our high quality solar panel will keep your boat lift battery in top condition so the DC lift motor has the power to raise and lower your boat. Illustrated instructions ensure fast and simple installation plus we offer a video for additional reference.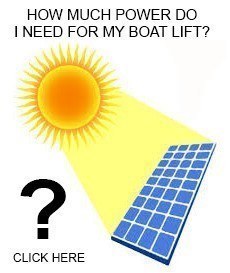 The 20w-24v Boat Lift Solar Charging Kit is constructed to last using only the best materials to withstand harsh marine environments and UV radiation. The easily-adjustable anodized aluminum mounting arm resists corrosion and has the strength to withstand high winds and storms. Furthermore, Lake Lifter's manufactures the highest quality solar panels available and are rated for 20+years life! With an emphasis on CELL quality, reliability, and longevity, Lake Lifter's 20w-24v Boat Lift Solar Charging Kit meets the highest customer standards. Our panels feature monocrystalline cells, a superior solar technology when it comes to efficiency. Superb low lighting performance, these single-crystal, silicon cell panels have a long lifespan, high durability, high reliability. These modules are sealed with low iron tempered glass and anodized aluminum alloy frames.
Boat Hoist Solar Charging Kit Features & Benefits
High-Efficiency Mono-Crystalline Solar Cells
Mounts To Any Type Boat House
20+ Years Lifetime Panel Rating
Replaceable Wiring & Waterproof Connect System
Adjustable Angle for Maximum Solar Charge
HD Arm Easily Handles Storms & High Winds
Boat Hoist Solar Charging Kit Includes:
20w-24v High Efficiency Solar Panel with Anodized Frame
24v 5A Solar Charge Regulator with LED Status Indicators
25ft HD Wire & Waterproof Connect System
3/8" Battery Connection Ring Terminals & Waterproof Connect System
HD Mounting Arm/Z Brackets & Hardware
2 Stainless Steel Mounting Straps
Instructions & Wiring Diagram