2M DC Boat Lift Blower Motor System (2 Motors on 1 Lift)
This system is designed for a single lift using 2 motors.
SAFER, FASTER, STRONGER: Lake Lifter's New 2M DC Boat Lift Blower Motor System is an all-in-one kit that provides everything needed to quickly convert air displacement boat lifts to safe and reliable DC solar power.
BLOWER MOTOR: Lake Lifter's marine grade 24 volt DC blower motor is a 1500 watt brushless blower motor that is safer and faster than traditional high voltage AC motors. Safe 24 volt DC power eliminates electrical shock hazards, electrical runs, and voltage loss problems around the dock. In addition, the Lake Lifter blower motor lifts boats faster than traditional electrical motors.
MOTOR CONTROLLER: Lake Lifter's advanced motor controller provides robust power and convenience to operate the Lake Lifter blower motor. Easy waterproof connect system integrates seamlessly to existing boat lifts including on/off switches. Our advanced LED indicator lights and internal buzzer inform users of any system adjustments that may be required.
CONTROLS: Lake Lifter's trigger switch assembly controls the ON/OFF operation of the boat lift blower motor. The trigger wires may also be attached to any existing boat lift control box on/off switches.
BATTERY POWERED: The DC Blower Motor System operates on safe DC 24v power. Two 12 volt deep cycle marine batteries are connected in series to create 24v. (Batteries Not Included) A fuse breaker protects the system from any failure or overload. The fuse breaker is installed in the lockable battery box and offers a safe and convenient system for disconnecting the power when not being operated.
BATTERY BOX: (Recommended): Lake Lifter's durable Fiberglass Battery Box houses two batteries, motor control box, breaker fuse, and wiring. The fiberglass battery box includes a lockable latch that keeps the system components safe and secure.
SAFETY: Lake Lifter's DC Boat Lift Blower Motor System offers boat lift operators a safe and fast alternative to traditional AC powered boat lift motors. Operating on safe DC 24 volt power, the risk of electrical shock is eliminated.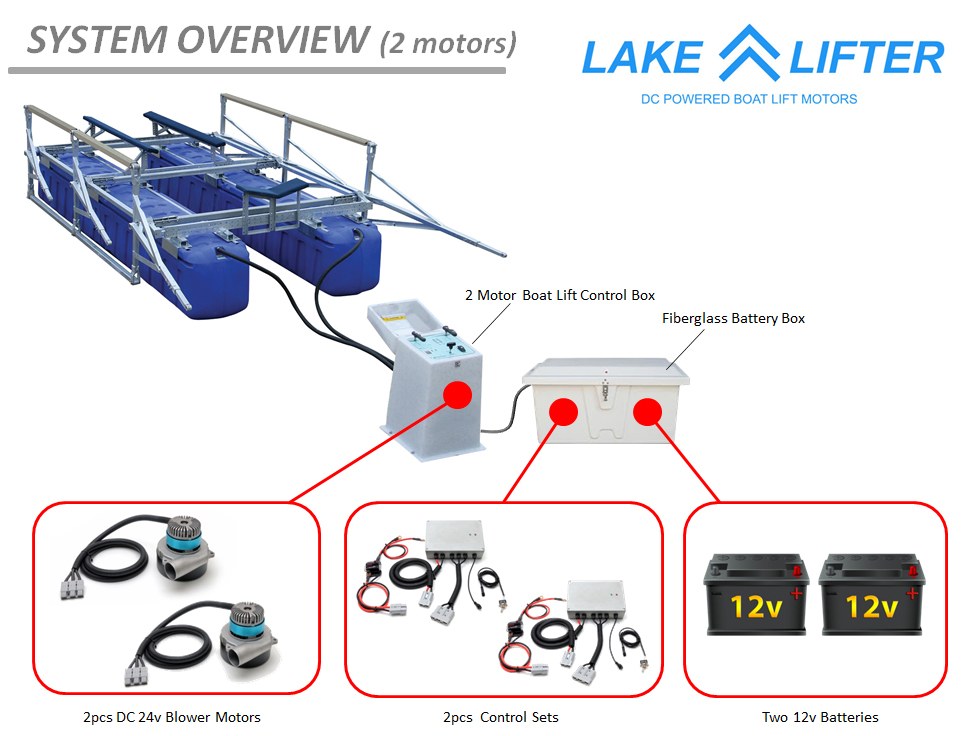 2M DC Boat Lift Blower Motor System Features & Benefits
2 Year Warranty Against Manufacturer Defects
Rated for all air displacement boat lifts
Safer & Faster than AC
Quick Installation
Powerful Brushless Motor
Trigger Switch
Faster Lifting Times
2 DC 24v 1500 watt Marine Motors
Manual Marine Trigger Switch
2 Control boxes with Wiring, Cables & Connectors
Have used this system all summer and it was awesome. This DC blower motor actually lifts my boat faster than my old AC motor. We live on a lake, and use our lift about 4-5 times per week. System has worked flawlessly every use!
Excellent customer service in all phases – fielding initial inquiry, sales, shipping and installation. Available by landline and cell whenever I had a question or needed help with installation. Highly recommend.
Easy ordering process, item exactly as described, extremely fast shipping!
Accessories & Replacement Parts