2M DC Boat Lift Blower Motor System + 40w-24v Boat Lift Solar Charging Kit (2 Lifts)
This system is designed for TWO adjacent lifts using 2 motors.
SAFER, FASTER, STRONGER: Lake Lifter's New 2M DC Boat Lift Blower Motor System + 40w-24v Boat Lift Solar Charging Kit (1-lift) is an all-in-one kit that provides everything needed to quickly convert air displacement boat lifts to safe and reliable DC solar power.
BLOWER MOTOR: Lake Lifter's marine grade 24 volt DC blower motor is a 1500 watt brushless blower motor that is safer and faster than traditional high voltage AC motors. Safe 24 volt DC power eliminates electrical shock hazards, electrical runs, and voltage loss problems around the dock. In addition, the Lake Lifter blower motor lifts boats faster than traditional electrical motors.
MOTOR CONTROLLER: Lake Lifter's advanced motor controller provides robust power and convenience to operate the Lake Lifter blower motor. Easy quick connect system integrates seamlessly to existing boat lifts including on/off switches. Our advanced LED indicator lights and internal buzzer inform users of any system adjustments that may be required.
CONTROLS: Lake Lifter's trigger switch assembly controls the ON/OFF operation of the boat lift blower motor. The trigger wires may also be attached to any existing boat lift control box on/off switches.
BATTERY POWERED: The DC Blower Motor System operates on safe DC 24v power. Two 12 volt deep cycle marine batteries are connected in series to create 24v. (Batteries Not Included) A fuse breaker protects the system from any failure or overload. The fuse breaker is installed in the lockable battery box and offers a safe and convenient system for disconnecting the power when not being operated.
BATTERY BOX: (Not Included - Recommended as Add-On): Lake Lifter's durable Fiberglass Battery Box houses two batteries, motor control box, breaker fuse, and wiring. The fiberglass battery box includes a lockable latch that keeps the system components safe and secure.
SAFETY: Lake Lifter's DC Boat Lift Blower Motor System + 40w-24v Boat Lift Solar Charging Kit offers boat lift operators a safe and fast alternative to traditional AC powered boat lift motors. Operating on safe DC 24 volt power, the risk of electrical shock is eliminated. The powerful 40w-24v Boat Lift Solar Charging Kit provides abundant recharging power to keep boat lift batteries ready for use. This system is designed for the frequent user. For lighter use (less than 12 lifting cycles per week), please consider our 20w-24v package here.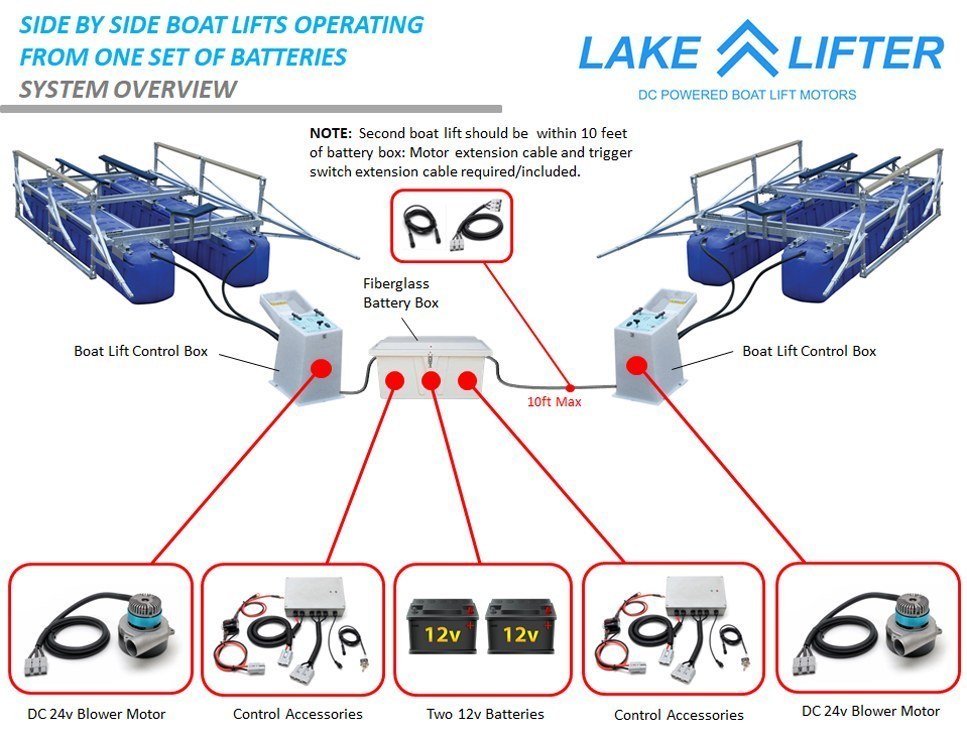 DC Boat Lift Blower Motor System Features & Benefits
2 Year Warranty Against Manufacturer Defects
Rated for all air displacement boat lifts
Safer & Faster than AC
Quick Installation
Powerful Brushless Motor
Trigger Switch
Faster Lifting Times
2 DC 24v 1500 watt Marine Motors
Manual Marine Trigger Switch
Wiring, Cables, Connectors with Breaker Fuse Protection
40w-24v Boat Lift Solar Charging Kit
SOLAR CHARGING: The Lake Lifter 40w-24v Boat Lift Solar Charging Kit provides abundant power for recharging 24 volt battery configurations. This system is designed to replace power for frequent or everyday boat use. For occasional users or lighter boat lifts we recommend our larger 20w-24v system HERE.
SOLAR PANEL: Lake Lifter manufactures the highest quality solar panels available rated for 20 years. With an emphasis on cell quality, reliability, and longevity, Lake Lifter's solar charging panels meet the highest customer standards. Our panels feature monocrystalline cells, a superior solar technology providing high efficiency. Excellent low lighting performance, single-crystal, silicon cell panels have a long lifespan, durability and reliability. These modules are sealed with low iron tempered glass and anodized aluminum alloy frames.
UNIVERSAL MOUNT: The universal J-Arm and quick connect mount attaches to any round or square vertical post. Offering 3 and 4 foot options, the J-Arm adapts to nearly any boat lift, boat house or structure. The adjustable anodized aluminum mounting arm resists corrosion and has the strength to withstand high winds and storms. Angle adjustable bracket ensures proper panel angle to collect and maximize the suns energy.
WIRING: The quick connect wiring system with inline diode, reverse wiring protection and internal fuse provides fast, safe and simple installation. Battery ring terminal connections provide quick and easy installation and removal from battery posts.
JUMPER: Heavy duty jumper wire is included to connect two 12v batteries in series to create 24v.
CHARGE REGULATOR: Lake Lifter's innovative charge regulator includes a charge status indicator LED and IBMS Technology – (Intelligent Battery Management System). Our patented and advanced micro-processor is programmed to intelligently monitor the battery condition up to 100%, unlike standard regulators at 55-60%. This feature results in a FULL charge and proper conditioning of the batteries.
A convenient LED shows the charge status to let you know the regulator is working and the State Of Charge (SOC) on the battery. The rugged aluminum housing and epoxy encapsulated electronics make this unit durable and water proof. The Solar Charge Regulator's quick 2-pin connector­s connect quickly to Lake Lifters Solar Panels and 3/8" ring terminals are equipped on the battery connector for quick installation.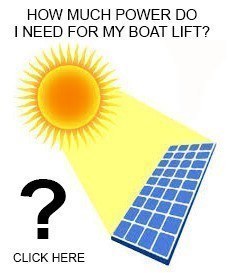 Boat Lift Solar Charging Kit Key Features & Benefits
High-Efficiency Mono-Crystalline Solar Cells
20+ Years Lifetime Panel Rating
24v DC Boat Lifts and Boats
Replaceable Wiring & Quick Connect System
Adjustable Angle for Maximum Solar Charge
J-Arm Easily Handles Storms & High Winds
40w-24v Boat Lift Solar Charging Kit INCLUDES:
Dual 20w-24v High Efficiency Solar Panel with Anodized Frame
24v 5A Solar Charge Regulator with LED Status Indicators
20ft Red-Black Color Coded 18AWG Wire & Quick Connect + "Y" Connector
3/8" Battery Connection Ring Terminals & Quick Connect
4 Foot Mounting Arm Height, Dual Bracket, & Hardware
2 Stainless Steel Mounting Straps
Instructions & Wiring Diagram